Denver Domestic Violence Lawyer
Assisting the Accused of Domestic Abuse in CO
In Colorado, an accusation or arrest for domestic violence can be a life-altering event. If you were recently charged with this violent crime, you are facing potential jail or prison time, expensive fines, and a permanent mark on your criminal record.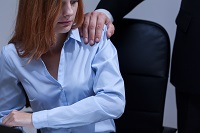 At The Orr Law Firm, we are committed to protecting your rights, reputation, and freedom. With decades of experience, our Denver domestic violence lawyers possess the comprehensive knowledge of state law to help you navigate through the intricacies of the legal system in order to obtain the most favorable results possible.
Discuss your case in a FREE consultation with a Denver domestic violence attorney from our firm today!
Penalties for Domestic Violence in Colorado
Domestic violence is defined as an act or threatened an act of violence against an individual whom the defendant has an intimate relationship with – such as a spouse (current or former), partner, co-habitant, or co-parent. The act is done to coerce, control, intimidate, punish, or seek revenge against that person.
If an individual commits a crime of domestic violence in Colorado, it is punishable by the following:
Prison, jail, or probation – Your sentence will depend if the conviction is a misdemeanor or felony, as well as if you have any previous convictions. A misdemeanor may carry up to two years in jail, but it is possible to be eligible for probation, reducing the jail time to 60 days. A felony may be punishable by either one year to life in prison, but a person may be eligible for felony probation, which can reduce the jail time to 90 days
Domestic violence treatment programs – A person guilty of domestic violence may be sentenced to domestic violence treatment programs, as well as a treatment evaluation which conforms to the standards adopted by the domestic violence offender management board.
Protection Order – There will be mandatory protection order in place, which can result in being ordered to vacate your home, having limited or no contact with your children, and not being allowed to consume alcohol if you are over the legal age.
Gun rights revocation – You may be prohibited from purchasing or possessing any guns or ammunition, especially if a protection order is in effect.
Call
(303) 747-4247

to Begin Your Defense Today

False accusations in domestic abuse cases are quite common. Our Denver domestic violence attorneys can investigate your arrest, collect evidence, and build an effective defense strategy to either get your charges reduced or your case dismissed altogether. Do not hesitate to get the experienced legal help necessary to get your life back on track.

Contact us and request a free consultation with our Denver domestic violence lawyers!