Amanda Dreiling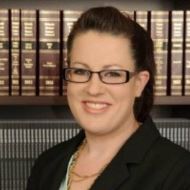 Paralegal to Our Denver DUI Lawyers
Amanda Dreiling is a Colorado native. She is a paralegal for The Orr Law Firm and the first point of contact for our firm. Amanda strives to provide the absolute best customer service whether it is over the phone or in person.
She started with the firm to get some real life experience in the legal field focusing on criminal defense. She enjoys learning from our Denver DUI attorneys and working in a fast paced always changing industry. She also enjoys working within the team oriented environment that The Orr Law Firm provides.
Amanda is currently attending Kaplan University, working on her Associate Degree in Paralegal studies, and her Bachelor's Degree in Business Management. Amanda's educational interests are Criminal Law, Constitution Law, and Legal Research and Analysis.
Outside of work, Amanda enjoys spending time with her family and enjoying all the activities that Colorado can offer.
Have you been arrested and need our strong defense solutions?
Call (303) 818-2448 to speak with a Denver DUI attorney during a free phone consultation.