Rick Hernandez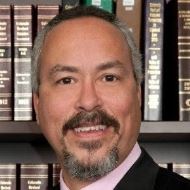 Associate Denver DUI Attorney
Richard "Rick" Hernandez was born and raised in New York City before joining the United States Air Force as a Security Specialist in 1981. The United States Air Force assigned Rick to work in Colorado in 1983. After serving our country for 4 years, Rick decided to make Colorado his home and began working for United States defense contractor, Martin Marietta, which later became Lockheed Martin Aerospace.
At Lockheed Martin, Rick worked as a certified Protection Officer, Colorado State certified firefighter, Emergency Medical Responder, and Local Union President. While employed by Lockheed Martin, Rick attended & graduated from the University of Phoenix, with a Bachelor's degree in Business Administration.
After passing the Colorado State Bar exam, Rick worked for the Colorado State Public Defender's Office. It was there that Rick acquired a passion for defending the rights of the accused in the legal arena. Rick's background and life experiences have given him the opportunity to experience real life lessons that allow him to sincerely empathize, sympathize & zealously advocate for our clients.
Rick's strengths completely align with The Orr Law Firm's commitment to providing outstanding legal representation to each and every client.
---
Call our Denver DUI attorneys at (303) 818-2448 for a free phone consultation now.
---
Areas of Practice:
DUI/DWAI/DUID/UDD
Vehicular Assault
Vehicular Homicide
Careless Driving Causing BI/Death
Criminal Traffic Offenses
DUR/DUS
Habitual Traffic Offender Cases
DMV Administrative Hearings
Minor in Possession/Consumption
Texting while Driving
Juvenile Law Expert
Felony & Misdemeanor Criminal Offenses
Bar Admissions:
Education:
University of Denver College of Law; Denver, CO 1998 J.D.
University of Phoenix; 1994 B.S.B.A.
Memberships:
Certifications/Training:
Forensic Alcohol Training and Consulting - Intoxilyzer 9000 Operator Training
Joshua Karton - From Presentation Into Persuasion
Platt & Associates - NHTSA/IACP Standardized Field Sobriety Tests Practitioner Course
Platt & Associates - NHTSA/IACP Drug Recognition Expert Overview Course
DUI Blood Testing: Understanding and Litigating Gas Chromatography Cases
Platt & Associates - NHTSA/IACP Standardized Field Sobriety Tests Instructor Course
---
Contact Orr Law Firm to get started on your case. Free consultation.
---